​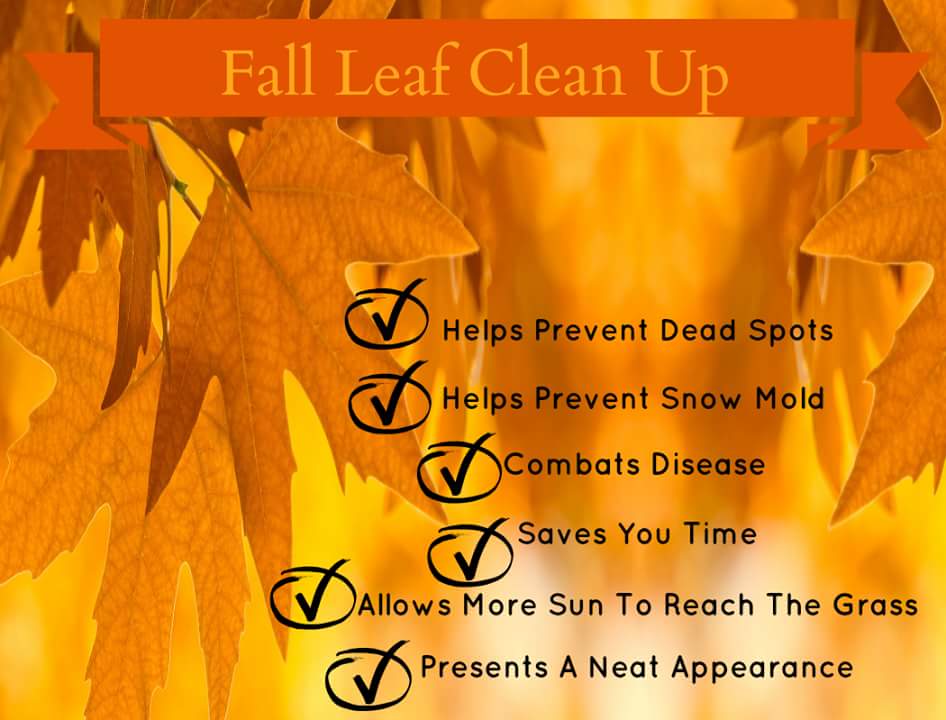 The first sign that fall is coming is the beautiful and colorful leaves on the trees. Eventually those leaves do fall off the trees creating a fun play environment for children and pets. However, it also means hours of work cleaning them up. As labor intense as it may be to clean-up and dispose of all these leaves, it is a necessary evil.
Why do you need to clean-up those leaves?
Leaving the leaves creates several problems for your lawn.
Leaves on the lawn deprive grass plants of needed sunlight. This will cause brown patches and/or dead patches in the lawn.
Leaves on the lawn suffocate the lawn by depriving the turf of vital oxygen.
Leaves on the lawn trap moisture within the turf which can create fungus issues.
Leaf clean-up in just one aspect in assuring that your yard looks its best come next spring. A complete fall clean-up is the key to preparing your landscape for a long winters nap and ensuring that it awakes happy and healthy in the spring. No one likes a cranky yard
What else is important in a final fall clean-up?
The lawn should be mowed shorter than normal (around 3 inches) to prevent fungus problems.
Trim and shape hedges and shrubs one last time for a neat winter appearance and to prevent snow and ice damage.
Dead wood or cross branches should be pruned to eliminate the chance of pest issues.
Remove all leaves, branches, twigs and debris from lawn and planting beds.
Perennial flowers should be "dead-headed" to promote growth in the spring.
Mulch should be turned and roughed up for a neat appearance and to eliminate any mold that may be setting in.
Putting in the time or money for a proper fall clean-up will not only pay off come spring with a beautiful and healthy yard but will also have things looking great for those Christmas lights and decorations.